Best Soundbars In The UK For 2020 – 2021 Reviewed!
For over a year, we've been confined to our homes to keep our families and friends safe: Although it seemed great at first, streaming music and shows got pretty repetitive after a while.
The cherry on top of having a Spotify or Netflix subscription is a great sound system. With this, you can genuinely enjoy streaming your favourite content with the bonus of a more luxurious experience.
A convenient way of having a sound system worth showing to your mates is with a soundbar.
With modern-day television sets manufactured to be slimmer and more minimalistic designs, purchasing one of these has its benefits.
It eliminates the stress of buying several (and more expensive) sets of speakers separately, and when connecting it to your TV, it doesn't feel like building an IKEA shelf. A simple purchase with a simple use.
Now that you know all the perks of having a soundbar, you'll probably be thinking of where to get one and how much you'll need to spend. Luckily for you, that's where we have your back.
To help you decide what soundbar is best for your TV and personal taste, we have made a list of the 10 Best Soundbars on the market in 2021.
1. Sonos Beam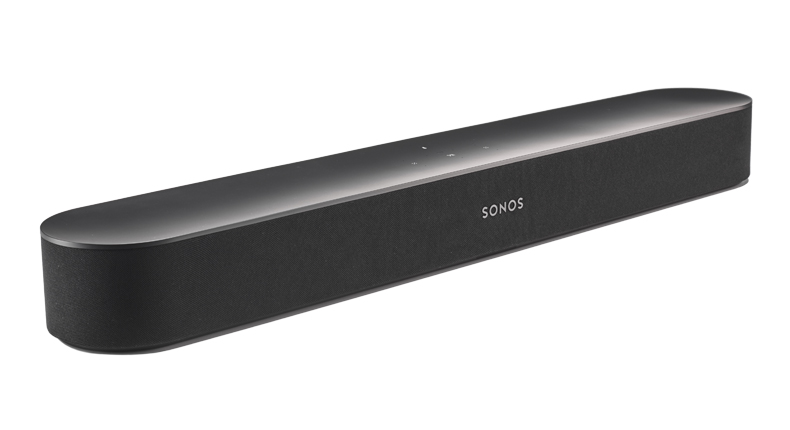 Dimensions: 7 x 65 x 10 cm (H x W x D)
With HDMI and voice control assistance, the Sonos Beam is the best soundbar you can get right now.
As mentioned earlier, a luxurious listening experience certainly comes with this one. Additionally, it's simple, light and looks great next to most TVs.
It has exquisite sound quality, thanks to five class-D amplifiers inside to heighten your own viewing experience.
Although it is small, Sonos Beam can project certain parts of a soundscape to create an immersive experience: Next time you watch Jurassic Park with this installed, remember you are in your house.
Pros
3 dimensional sound
Great bass weight and depth
Streaming
Multi-room projection
Cons
Only one HDMI port
Sibilance at high volumes
Expensive
2. Samsung HW-Q950T
Dimensions: 122.6 x 8.3 x 13.6 cm (Soundbar), 20.5 x 40.2 x 40.3 cm (Subwoofer), 12 x 21 x 14.1 cm (Rear speakers) (H x W x D)
Samsung HW-Q950T is a combination of Samsung's amazing power and 14 different channels of sound, to create advanced sound projection.
Like Sonos Beam, its slim shape would fit in with the style of any TV. There are also two additional speaker sets with this number: two rear speakers and a subwoofer.
With a 9.1.4 speaker configuration and a 0.45W claimed audio power, Samsung HW-Q950T is a perfect example of 'don't judge a book by its cover'.
Having 16 mini speakers built in to 3 sets of speakers, the sound quality from this soundbar system is admirable.
Pros
Powerful sound
Easy to set up
Slender design
Cons
Expensive
Not compatible with lpcm or Atmos video games
3. Sonos Arc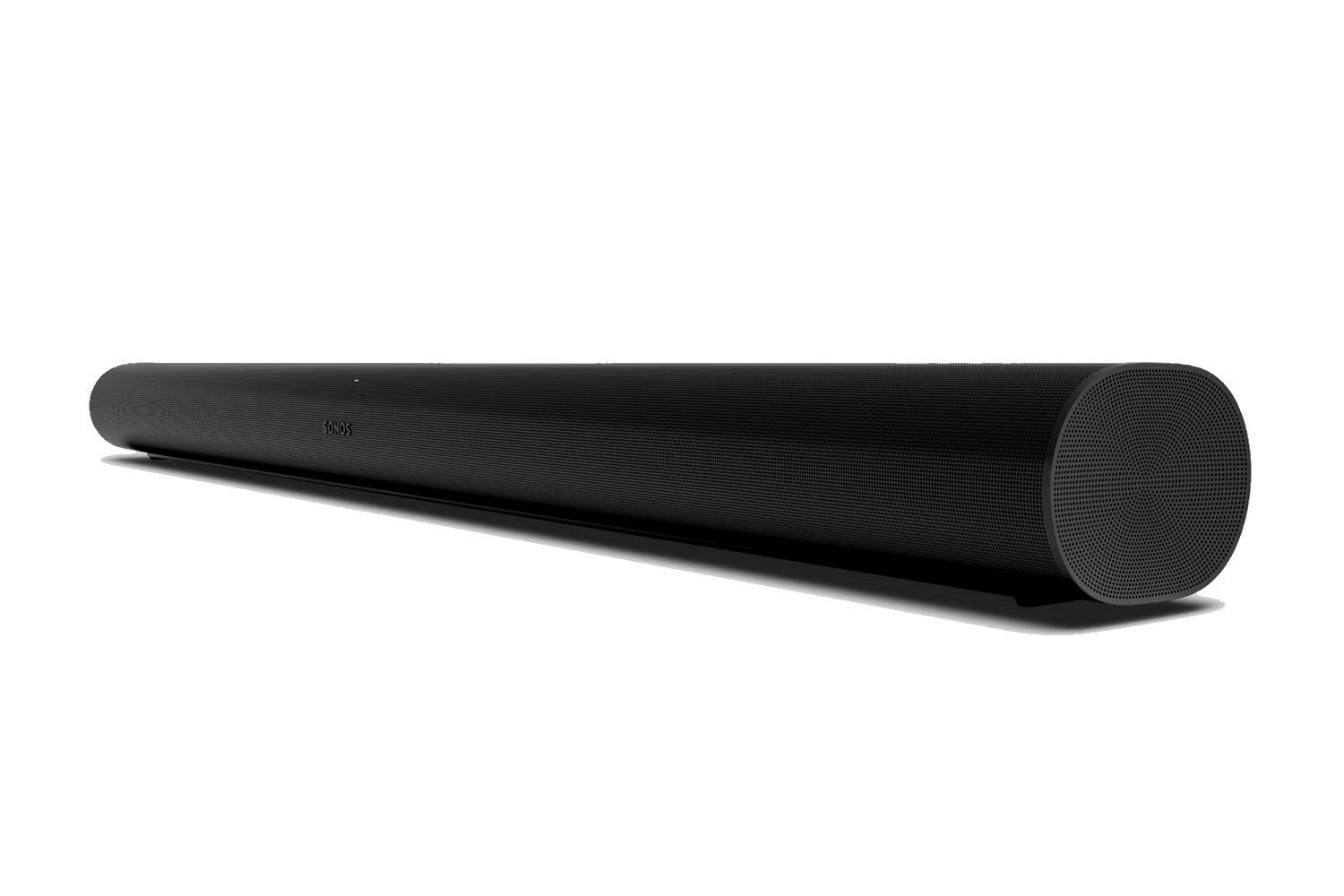 Dimensions: 8.7 x 114 x 12 cm (H x W x D)
Another gem of a soundbar system from Sonos- This piece brings incredibly realistic sound to the comfort of your home.
It includes high-performance drivers for a detailed range of sound, fitted into a slim design that can be mounted or placed on furniture without a hassle.
Additionally to the soundbar itself, different speakers are included depending on the set purchased: The Entertainment set adds a powerful subwoofer. The Surround Set consists of the same and one SL speaker.
Sonos Arc has a range of options when connecting to your TV. With a HDMI port, Ethernet port and Bluetooth connectivity, this soundbar system fits perfectly into any home of 2021.
Pros
Powerful sound
Compatible with most video games
Slender design
Works great with movies
Cons
Expensive
Doesn't work as well with music
4. JBL Bar Studio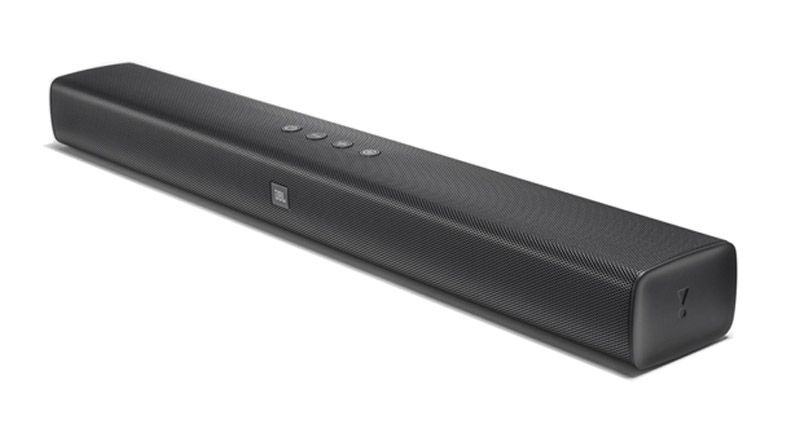 Dimensions: 6 x 61 x 9 cm (H x W x D)
Built with Dolby Digital and JBL Sound, this system can immerse you into the scenes of your favourite movie.
With its compact and seamless design, it blends effortlessly into any room style.
This system includes a handheld remote, and it is even possible to program it to your existing TV remote control.
The JBL Bar Studio comes with a HDMI port and Bluetooth connectivity, so you can connect it to your TV and casually play music from your phone.
Even though it's not a soundbars leader, it has excellent quality for its price and will significantly improve any default TV speakers' sound.
Pros
Solid sound
Great bass
Great for price
Cons
Harsh noise at higher volumes
Not great with music

5. Samsung HW-Q90R Soundbar
Dimensions:
This elegant number includes wireless rear speakers and a subwoofer, making it great for upgrading your at-home cinematic or music listening experience.
Having a speaker configuration of 7.1.4 and a claimed audio power of 512W, this soundbar is lusted after in the market.
The system can be connected to your TV via 2 HMDI ports, a USB port and Bluetooth.
In summary, the Samsung HW-Q90R Soundbar is indeed one of the best you can get your hands on, if you can afford it, of course.
Pros
Impressive sound quality
Great bass
Easy to install
Cons
6. Sennheiser Ambeo Soundbar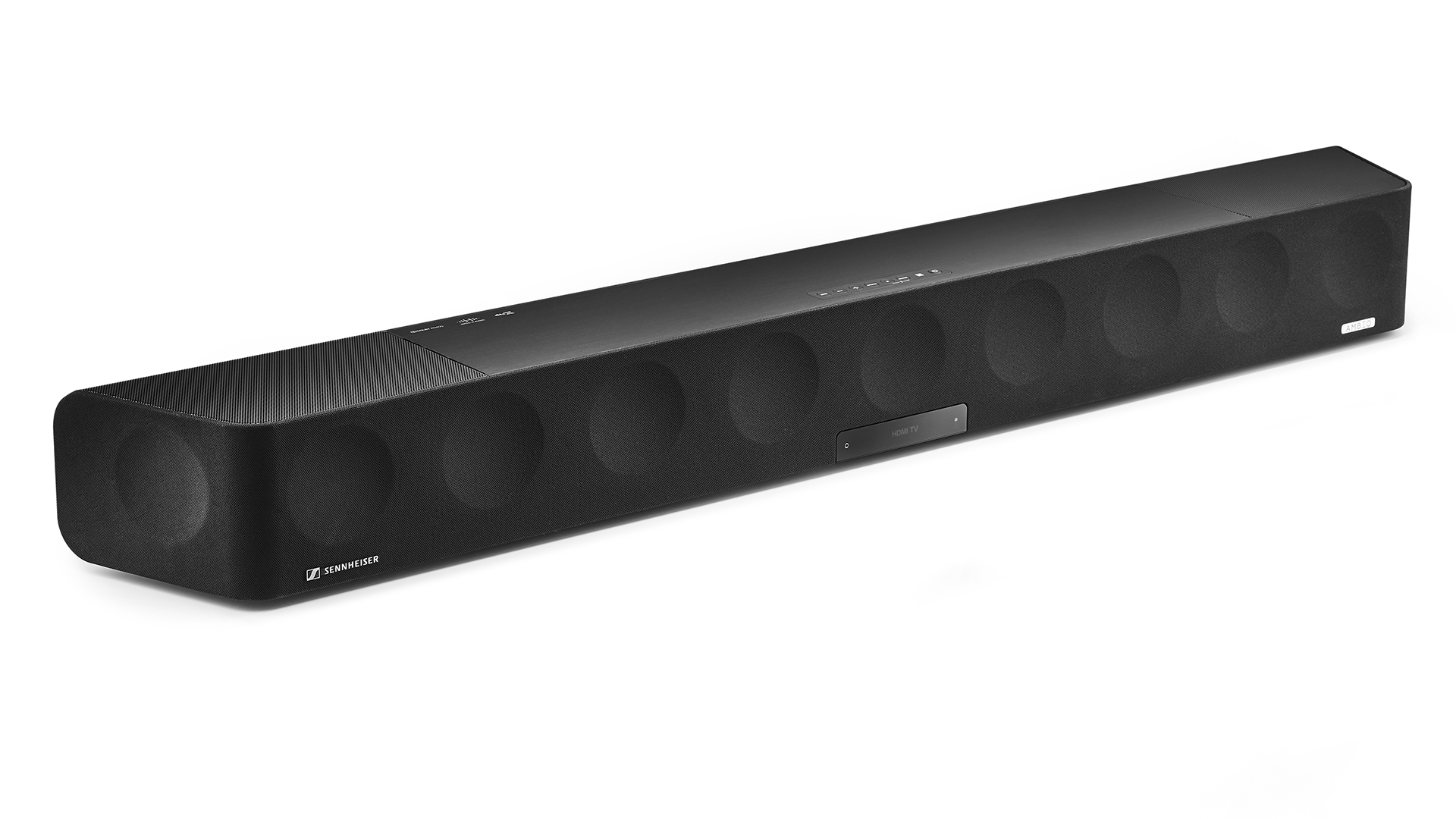 Dimensions: 14 x 127 x 17 cm (H x W x D)
You can only expect a great entertainment experience with the Sennheiser Ambeo Soundbar. It ticks every single box in terms of audio.
With its unique Ambeo 3D technology, this system delivers unparalleled sound.
Unlike the previously listed soundbars, this soundbar is a larger model and therefore has a more impressionable appearance than subtle. Due to its size, you don't even need a subwoofer for this baby.
The Dolby Atmos and DTS:X surround sound system of Sennheiser's first consumer speaker provides a convincing 3D sound, perfect for those who appreciate a greater-than-average listening experience.
The soundbar would have to be mounted on a wall or positioned on a top shelf so that the upward-firing speakers aren't blocked. It's an effort that is well rewarded!
Pros
Rich, balanced sound
Excellent dynamics
Impressive surround effect
Cons
Large
Expensive
Fussy about positioning
7. Sony HT-X8500 Soundbar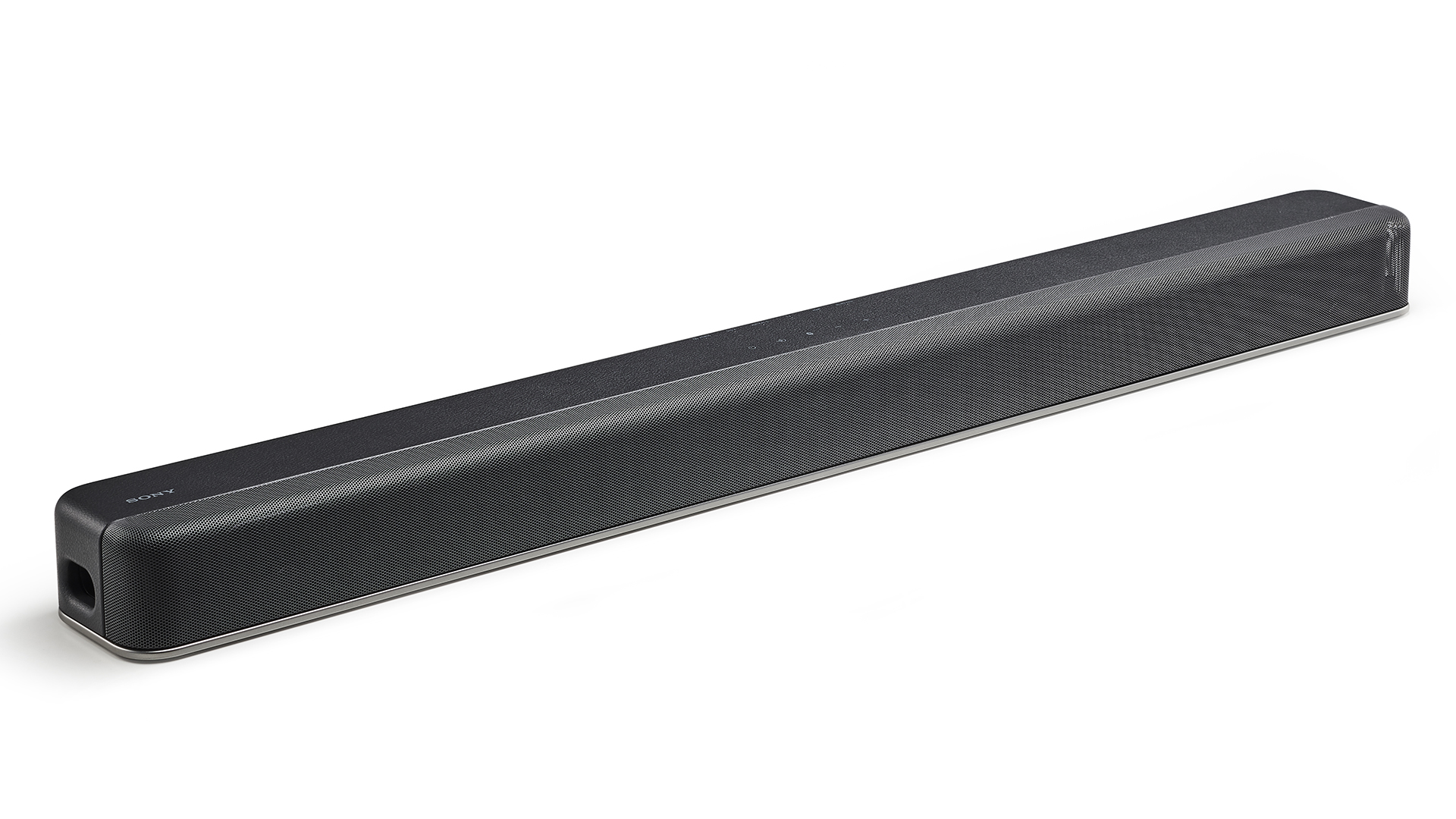 Dimensions: 89 x 6.4 x 9.6 cm (H x W x D)
Adding this to your home would be like single-handedly turning it into a personal cinema.
Combined with Dolby Atmos and DTS:X and a built-in subwoofer, a round 3D experience is a given with this system. It truly immerses the listener into any movie or song.
This build's humble design makes it suitable to place in any part of your home whilst maintaining excellent sound projection.
The soundbar is compatible with WiFi, is Bluetooth enabled, and includes a HDMI port and USB port.
Whether you're looking for a unique sound system or want to enjoy cinema and music at its best, the Sony HT-X8500 Soundbar is what you need.
Pros
Dolby Atmos and DTS:X
Compact all-in-one system
Built-in subwoofer
Cons
How Does A Soundbar Work?
I had a friend say that "having a soundbar is like having 10 ears across your head", meaning that sound is projected in many different directions instead of just left and right.
They bias certain parts of a soundscape, tricking your brain into thinking the sound is coming from different parts of the room when it's just bounced off the surrounding surfaces.
To sum it up, a soundbar works by bouncing sounds off walls to create an acoustic and immersive effect. Built with several speakers compacted into one system, they make installation simple, in addition to looking minimalistic and not overbearing.
Main Parts of A Soundbar
Inside a soundbar, there are multiple speakers in a single cabinet, achieving a surround sound effect without standard speakers' expected bulk. A built-in subwoofer is usually included with the soundbar, either in the cabinet itself or as a separate piece.
What Features To Look For
To enhance an anaemic TV sound, a sound bar with two front channels and a separate subwoofer is what you'll need.
However if you're after a truly excellent surround sound, get a sound bar that includes a subwoofer and rear speakers. This will provide a multichannel sound for a great listening experience.
Installing a Soundbar
The installation of a soundbar is pretty simple with both old-style and new television sets.
For the older TVs, all you need is a HDMI cable. The same cable is also compatible with newer TV models, but Bluetooth is more straightforward and modern.
Almost every soundbar on the market today comes with a HDMI port and Bluetooth connectivity, so make sure you check how both of these functions work on your TV before purchasing a soundbar.
Benefits of Using A Soundbar
Having one of these in your home is helpful, as it rids the need of having to buy separate sets of speakers and the hassle of deciding where to place them.
If you're looking for a decent sound system, the average soundbar costs around £200, whilst purchasing individual speakers would cost around £1000.
Additionally, a soundbar is easy to install as it only requires mounting it on the wall next to your TV or placing it directly in front.
Looking at the soundbars listed above, it is easy to connect your soundbar to any modern TV with Bluetooth or a HDMI cable.